Travel & Tourism
Global
According to the World Tourism Barometer, created by the UNWTO, international tourist arrivals grew by 4% in 2012 to reach 1.035 billion. This was driven by an additional 39 million international tourists. Tourism demand remained robust throughout the year with a stronger than expected final quarter.
Following the trend which has marked the sector for many years now, 2012 saw a stronger growth in emerging economies (+4.1%) than in advanced economies (+3.6%). By region, Asia and the Pacific (+7%) was the best performer, while by sub-region South-East Asia, North Africa (both at +9%) and Central and Eastern Europe (+8%) topped the rankings.
The UNWTO forecasts international tourist arrivals to increase by between 3% and 4% in 2013, much in line with its long term forecast for 2030: +3.8% a year on average between 2010 and 2020. Prospects for 2013 are strongest for Asia and the Pacific (+5% to +6%), followed by Africa (+4% to +6%), the Americas (+3% to +4%), Europe (+2% to +3%) and the Middle East (0% to +5%).
EMEA
Similar to trends of previous years, EMEA continued to be the leading region for international tourist arrivals. According to the UNWTO, the region received 640 million visitors in 2012, mainly driven by Europe, reflecting 52% of the worldwide total volume.
EMEA international tourist arrivals in 2012 recorded a 2.9% increase over 2011, slightly below the growth rate of 4.2% in 2011. This was mainly due to a 3.3% and a 6.3% increase in Europe and in Africa respectively, whereas international arrivals in the Middle East declined by 4.9%.
According to the UNWTO, all of the EMEA sub-regions experienced growth in terms of international tourism with the exception of the Middle East.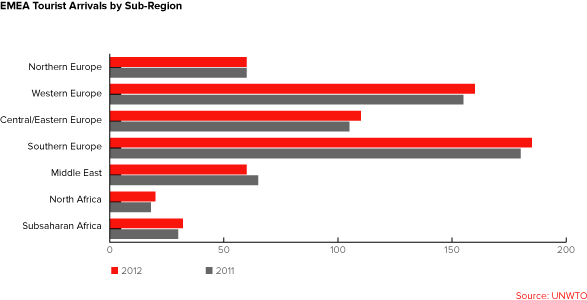 Europe
International tourist arrivals to Europe were up by 3.3%; a very positive result in view of the economic situation, and following a strong 2011 (+6.1%). Total arrivals reached 535 million, 17 million more than in 2011.
By sub-region, Central and Eastern Europe destinations (+8.0%) experienced the best results, followed by Western Europe (+3.0%). Recession and austerity in Southern Mediterranean Europe led to a decline in international tourism growth, moving from 7.4% in 2011 to 2.0% in 2012.
Middle East
A decline in international tourism arrivals continued in the Middle East in 2012, with the region recording 52.6 million arrivals, 4.8% less than 2011. This was mainly due to the continued economic and social uncertainties in the region.
The UNWTO stated that trends in the Middle East are the hardest to forecast due to the volatile environment and the widely varying trends across countries. However, as some countries continue to recover from the recent conflicts, and others continue to push ahead in the development of their tourism industry, figures are expected to be positive in 2013.
Africa
Africa (+6.3%) recovered well from its setback in 2011 when arrivals declined by 1% largely due to the political turmoil in North Africa. In 2012, arrivals reached a new record of 52 million thanks to a growing amount of tourists returning to North Africa (+8.7% in 2012). Destinations in Sub-Saharan Africa also reported a growth in tourism arrivals (+5.0%). The UNWTO has projected that international tourism arrivals for the African region will strengthen by 4% to 6% in 2013.
Hotel Performance
Global
In 2012, the global hotel market saw improved RevPAR performance in every region when compared to 2011 according to STR Global. The Americas region posted the highest RevPAR increase at 6.3%, followed by the Middle East/Africa at 5.6%, Europe at 4.8% and Asia Pacific at 1.4%.
Europe
Hotel operating results across Europe remained surprisingly buoyant in spite of European economies falling back into recession. Across Europe, RevPAR improved by 4.8% due to a 4.7% growth in ADR whereas occupancy remained flat, when compared to 2011.
When analysed in regions, Northern and Eastern Europe reported the highest RevPAR increases, both at 8.6%, followed by Western Europe (+2.7%) and Southern Europe (+1.1%).
In 2012 demand (measured in occupancy) in Europe increased most significantly in Reykjavik (+12.7%), Bratislava (+10.4%), Moscow (+4.9%), Dublin (+4.9%) and Berlin (+4.7%).
Middle East / Africa
The Middle East and Africa region also recorded healthy results with an overall RevPAR growth of 5.6%, a significant improvement on the 1.8% fall in RevPAR in 2011. Despite the on-going instability, Northern Africa posted the highest growth, showing an impressive 16.8% improvement in occupancy to 52%. However, average daily rates continued declining (-6.1%) causing RevPAR to remain significantly below historic levels.
Egypt finished 2012 with the highest RevPAR increase at 14.3% fuelled by a 17.5% improvement in occupancy. ADR on the contrary continued to decline (-2.7%). However, this growth came from a very low base and RevPAR is still far from returning to levels achieved before the Arab spring.
In Dubai, a strong growth in tourism arrivals led to year-on-year occupancy and ADR increases of 3.3% and 7.9% respectively, causing RevPAR to move closer to its 2008 peak. RevPAR growth was also seen in Jordan (+13.6%), Saudi Arabia (+11.1%) and South Africa (+12.4%).
Hotel Supply
Current and future hotel supply
Europe and the MEA region continue to have stark differences in their hotel segments of supply and pipeline for 2012. As reported by STR Global, Europe saw a total of 41,982 rooms open in 2012, the majority of which were in the economy class, making up 33% of the total new room stock. This is significantly different from the MEA region which saw 15,735 new hotel rooms come to the market, of which just 242 were in the Economy class, equating to about 2% of new hotel room openings. This is due to MEA's strong investor interest in the upscale and luxury hotel sector, reflected in the large amount of new hotel openings in these segments in 2012. Although the midmarket and budget hotel sector does not currently have a large market share, the MEA region has been experiencing a steady increase in this segment in recent years.
According to STR Global, the European hotel development pipeline comprises of 844 hotels with 141,273 rooms and the Middle Eastern/African pipeline of 478 hotels totalling 119,233 rooms.
Global Hotel Pipeline
Asia Pacific continues to dominate the global hotel pipeline with 377,036 new rooms, representing 40% of the total new room stock. Americas is expected to be the second most active development region with 2,634 new hotels and 304,077 rooms (32% market share). Europe currently has 844 hotels in the pipeline with 141,273 rooms and the MEA region will see the opening of 478 hotels totalling 119,233 rooms.
EMEA
Despite the on-going financing difficulties for new hotel projects a number of markets will experience a significant growth in hotel supply including London, Berlin, Istanbul, Dubai and Abu Dhabi.
In London, 31 hotels with 4,600 bedrooms are scheduled to open in 2013, and 26 hotels with 4,200 bedrooms are planned to come online in 2014, reflecting a supply growth of 4% in 2013 and 3% in 2014. Significant highlights will include a 202-bedroom Shangri-La Hotel in 2013. The hotel will be located in the Shard, a new landmark skyscraper in Southwark. In January 2011, planning permission was also granted for the €580 million Heron Plaza development. The 43-storey tower will house a new 190-bedroom Four Seasons Hotel & Residences which is expected to open in 2015. Most development activity will be occurring in the boroughs of City of Westminster, City of London and Southwark.
Berlin will experience a strong supply growth with some 4,000 rooms entering the market in 2013 and about 2,000 rooms in 2014. We note that, although the growth in new hotels is expected to continue over the next few years, the supply pipeline has already started to slow down, with many operators already having a presence in the city and fewer central sites being available. The new developments will be primarily located adjacent or in close vicinity to the major infrastructure projects, such as Berlin Brandenburg Airport, Alexanderplatz and 'MediaSpree'.
Abu Dhabi will also witness a substantial increase in hotel supply as new 4 and 5-star hotels enter the market in the next two years. The majority of new developments will be branded by international operators including a new Courtyard by Marriott, Four Seasons, Ritz Carlton, St Regis and W Hotel. 2013 is expected to see approximately 2,900 new rooms, many of which will be managed by the Rotana Hotel Management Corporation. Historically however, hotel projects in the emirates have suffered from delays. In addition, considering the current investment and development climate, many projects are being reviewed and prioritised, and it is likely that many planned and proposed projects will experience delays or be put on hold.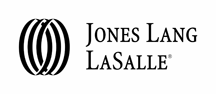 Industry Trends
According to the United Nations World Tourism Organisation (UNWTO), international tourism demand remained strong throughout the first eight months of 2013, driven by growth in Europe, Asia-Pacific and the Middle East.
Between January and August, international tourist arrivals increased 5% and reached a new record of 747 million worldwide, 22 million more than the same period in 2012.
The months of June to August witnessed strong growth, with arrivals topping 125 million in both July and August. June also posted sound results with the 100 million arrivals mark exceeded for the first time.
Europe saw the highest growth, with an estimated 20 million more arrivals (+5%) despite slow economic growth throughout the region. Europe continues to be the most visited destination globally.
Central/Eastern Europe and Southern/Mediterranean Europe both performed particularly well, with growth of 7% and 6% respectively, whilst Africa received an extra two million arrivals (+5%), led by growth in North Africa.
Asia and the Pacific (+6%) continued to show robust growth driven by South East Asia (+12%), with an extra 10 million arrivals to the continent.
The Americas has seen the least growth (+3%), gaining a comparatively modest four million additional arrivals, driven by North America (+4%).
World tourism performed better than expected in the period May to August 2013 and the UNWTO expects tourism prospects for the last few months of 2013 to remain upbeat.
Positive results in tourism arrivals were reflected in a rise in international tourism receipts for the first eight months of the year. In Europe, the United Kingdom and Greece saw double-digit increases of 18% and 15 %, respectively.
Emerging economies are leading international tourism expenditure, with all BRIC countries except India posting double-digit growth. Notably, China posted a very large increase in spending of 31%, while Russia (+28%) and Brazil (+15%) also saw sound increases during the same period.
Regional Performance
Europe
According to STR Global, the European hotel industry saw relatively flat results September 2013 YTD (when measured in Euros). Despite a 2.2% rise in occupancy, ADR decreased 1.5% resulting in overall increase in RevPAR growth of 0.6%.
Hotels in Southern Europe recorded the best results in the region, continuing the trend from last quarter. Market-wide RevPAR improved 4.3% year-on-year as a result of a 2.7% increase in ADR and a 1.6% uplift in occupancy. Portugal achieved the highest growth in RevPAR (6.3%) due to a healthy increase in occupancy of 4.0% and a 2.2% rise in ADR. Malta and Italy posted the second highest RevPAR growth in Europe(+6.2% each), followed by Greece (5.8%) and Spain (4.5%). Turkey was the only country in Southern Europe to post negative results, with a RevPAR decline of 3.2% as occupancy and ADR fell 2.0% and 1.2%, respectively. This weak performance is likely due to civil unrest in the country during the summer months and the on-going violence in neighbouring Syria having a negative impact on tourism.
September 2013 YTD, Western Europe reported relatively flat RevPAR growth of 0.6%. While occupancy rose 0.9%%, ADR fell a marginal 0.3%. France was the best performing country, posting RevPAR growth of 2.0% as a result of a 0.1% decrease in occupancy against a 2.1% rise in ADR. Positive RevPAR growth was also reported in Belgium (1.0%) and Switzerland (1.5%), whilst trading in the Netherlands and Germany was flat compared to last year.
Hotels in Eastern Europe recorded flat results September YTD 2013, with a slight decrease in RevPAR of 0.7% year-on-year. Hungary was the best performing country in Eastern Europe and witnessed robust growth in both occupancy and ADR, resulting in a RevPAR rise of 7.8%. The hotel market in Slovakia also posted good results with an 8.7% growth in occupancy despite a 2.4% decline in ADR.Poland was the weakest performing market in the region which, despite a 5.9% increase in occupancy saw ADR fall 14.8%, resulting in a RevPAR decline of 9.8%. This is likely due to the UEFA European Championships driving room rates in summer 2012.
Northern Europe was the only European region to post a decline in RevPAR (-1.7%). This was the result of a 4.8% decrease in ADR while occupancy grew a moderate 3.3%. September 2013 YTD, Lithuania posted exceptional results with a 19.8% increase in RevPAR. ADR was the main driver of growth, up 12.5% coupled with a 6.4% uplift in occupancy.
Ireland and Denmark also posted strong results, with RevPAR growth of 9.5% and 8.5% respectively. Comparatively, the United Kingdom (-2.9%), Austria (-3.5%) and Finland (-5.5%) all posted RevPAR declines.
The best performing European cities in terms of RevPAR growth September YTD 2013 were Vilnius (16.5%), Copenhagen (11.6%), Dublin (10.3%), Bratislava (7.2%), Budapest (6.7%) and Lisbon (6.5%). Cities reporting RevPAR declines included Warsaw (-18.1%), Madrid (-6.8%), London (-6.9%), Istanbul (-6.6%), Vienna (-6.2%) and Geneva (-5.7%).
Middle East & Africa
The Middle East and Africa (MEA) region saw occupancy and ADR increase a steady 1.7% and 3.3% respectively, resulting in RevPAR growth of 3.1%(when measured in US Dollars). The Middle East saw the strongest growth, with RevPAR up 7.0% compared to 2012, while Northern Africa saw RevPAR decline 2.9%. Trading in Southern Africa was also less than impressive, with RevPAR dipping 2.3% year-on-year.
The strongest performer in the Middle East was Oman with a RevPAR increase of 13.9%, primarily as a result of an 8.7% increase in occupancy. This reflects thestrong push made by Omani tourism agencies in 2013 to increase the country's appeal as a tourism destination. Bahrain and the United Arab Emirates also posted good results, with RevPAR growth of 11.9% and 10.5% respectively. Lebanon has seen a severe decline in RevPAR of 26.7% as a result of political and sectarian tensions in the country, together with the on-going war in neighbouring Syria.
In Northern Africa, Egypt has seen a sharp decline in occupancy of 7.8% and a 1.4% fall in ADR, resulting in a 9.1% decrease in RevPAR. This is likely due to many countries issuing travel warnings to Egypt because of the on-going unrest in the country following the ousting of President Mohammad Mursi by the army.
In Southern Africa, Mauritius achieved positive results with a 3.5% increase in RevPAR resulting from a sharp fall in occupancy of 7.7%, offset by a 12% uplift in room rates.
In MEA, the best performing city was Muscat with a 15.9% RevPAR growth, followed by Dubai (11.0%), Abu Dhabi (10.6%) and Manama (10.4%). The weaker performing cities included Beirut (-27.4%), Cairo (-17.5%), Nairobi (-7.3%) and Johannesburg (-7.0%).
Supply
According to September 2013 STR data, the European hotel development pipeline consists of 135,006 rooms across 816 hotels. Manchester, in the United Kingdom, continues to report the highest supply growth in the region (+25.3%) if all 3,451 rooms in the active pipeline open. Other markets expecting significant room growth include: Moscow, Russia (+18.3% with 7,090 rooms); Istanbul, Turkey (+16.6% with 6,188 rooms); London, UK (+14.2% with 16,583 rooms); Amsterdam, Netherlands (+11.7% with 3,537 rooms); Birmingham, UK (+11.7% with 1,170 rooms); and Edinburgh, UK (+10.8% with 1,252 rooms).
In the Middle East and Africa, developments total 117,642 rooms across 480 hotels. The UAE reported the largest active pipeline with 32,107 rooms, followed by Saudi Arabia (30,642), Qatar (8,167), Egypt (5,945) and Morocco (5,162). September YTD 2013, 49 hotels have opened in the region (11,226 rooms), with an additional 71 hotels (18,064 rooms) expected to open before the end of this year.
A further 133 hotels (27,759 rooms) are expected to open in the MEA region in 2014, with the majority in the upper-upscale segment (7,568 rooms across 28 hotels), followed by the upscale segment (5,759 across 28 hotels) and luxury segments (5,667 rooms across 26 hotels).
Transactional Activity Q3 2013
| | | | | | | |
| --- | --- | --- | --- | --- | --- | --- |
| Hotel | Location | Sale Price (€m) | Grade | Rooms | Buyer | Seller |
| Grand Plaza Serviced Apartments London | London | 116.6 | 4 Star | 198 | Federal Land Development Authority | Residential Land |
| First Hotel Amaranten Stockholm | Stockholm | 114.7 | 4 Star | 423 | Home Capital AS | Host AB |
| Hotel Eden | Rome | 105.0 | 5 Star | 121 | Dorchester Group | Starwood Hotels & Resorts |
| San Clemente Palace Hotel & Resort | Venie | 85.0 | 5 Star | 200 | Permak | Turin Hotels International |
| Novotel Paddington | London | 75.5 | 4 Star | 206 | The British Land Company Plc. | Aviva Investors |
EMEA transaction volumes at September YTD 2013 reached €8.2 billion, reflecting a 52.8% increase when compared to the same period last year. Transaction activity was driven by single asset deals, where investment volumes increased 12.6%.
The United Kingdom remains the most liquid market, with investment volumes amounting to €2.6 billion (31.9%of total transaction volumes), followed by France (19%) and Germany (7.4%). The most notable single asset transactions in the UK during Q3 2013 were the sale of the Grand Plaza Serviced Apartments in London which was sold to the Federal Land Development Authority of Malaysia for €116.6 million and the Novotel London Paddington for around €75.5 million.
In terms of portfolio sales during Q3, Private Equity firm Gecina sold four Club Med holiday villages for €280 million as part of the company's strategy to focus on other core business assets. In addition, the Spanish–basedDerby Hotels Collection bought out its 50% stake in the Caesar Hotel in London and the Banke Hotel in Paris for €240 million from Investment Fund, Grupo Metropolis.
In the first nine months of 2013, Sovereign Wealth Funds (SWFs) were the most dominant investor type with 25.9% of total investment volume, followed by Investment Funds/Private Equity Firms (24.3%) and Hotel Operators (21.2%).
Hotel Operators were the most active sellers in the first nine months of the year with 29.3% market share. Investment Funds/Private Equity firms were the second most active (27.4%), followed by Receivers (14.9%) and Property Developers (13.9%).
Company News: Strategy and Development
Rezidor Hotel Group
Rezidor's Q3 revenue decreased 4.2% compared to last year as a result of a strengthening of the Euro and the exit of nine leased hotels at the end of 2012.
EBITDA margin in Q3 increased 2.6 percentage points to 10.0% as a result of cost reduction initiatives launched in Q3 2012. Rezidor aims to reach an EBITDA margin of 6-8% by 2015.
Year-on-year RevPAR has improved 5.9%, with growth almost equally split between occupancy and ADR (unlike H1 2013 when RevPAR growth was solely occupancy related) whilst year-on-year RevPAR growth for leased hotels was 2.3%.
August was the strongest month in Q3, with RevPAR development linked to a number of events across Europe such as the World Athletic Championship in Moscow and congresses in Copenhagen.
RevPAR growth has been reported across all four geographic segments when compared to last year. The strongest developments were seen in Eastern Europe (+8.4%) based on healthy growth in Russia and the Baltic states. Likewise, MENA also posted strong performance in the quarter (+7.8%) led primarily by the UAE and South Africa.
Good performance was reported across all other parts of Western Europe, with Sweden the only country to post RevPAR declines.
Rezidor and Regent Hotels and Resorts have mutually agreed to terminate their alliance agreement in respect of the luxury Regent brand. Rezidor currently has no Regent hotels in operation or under development.
Rezidor has announced a strategy 'to grow with management and franchise contractsand only exceptionally with leases'. Other short-term objectives, collectively known as 'Route 15', include revenue generation activities, cost savings and cap utilization.
The company currently operates in 56 countries with a strategy to expand in the emerging markets of Russia/CIS and Africa.
During Q3, Rezidor opened 560 rooms across two hotels and closed 440 rooms, resulting in a net increase of 120 rooms. The company also signed a total of 1,400 rooms in the third quarter of 2013, five of which are in Saudi Arabia.
Rezidor claims to have the largest sub-Saharan development pipeline and the group currently has 11,300 rooms in operation or under development in the region. In Nigeria alone, the group already has 8 hotels in operation and/or under development.
Two of Rezidor's most profitable hotel contracts were extended under 20-year lease agreements (previously management contracts) in Copenhagen.
InterContinental Hotel Group
IHG has reported a 1.0% increase in total gross revenue to $10.4 billion for the first half of 2013. First half global RevPAR grew 3.7%, with ADR increasing 1.9%.
First half European RevPAR increased 0.4% with a 0.5% decrease in ADR. Trading was resilient in key markets such as the UK, Germany and France which saw RevPAR increases of 1.6%, 1.1% and 4.0%, respectively.
IHG properties in Asia, the Middle East and Australia saw robust RevPAR growth across the entire region (+6.2%) with South East Asia and Japan reporting the highest single digit RevPAR growth. The Middle East and Australia posted mid-single digit RevPAR increases.
Fee revenue increased 4.0% to $562 million, led by the Americas with a growth of 7.0%.
The group has added 15,000 rooms across 108 hotels during the first half of 2013, with over half of these in the Holiday Inn brand family. IHG has a pipeline of 179,000 rooms (1,098 hotels) with over 40% under construction. In total,IHG has increased its room supply by 1.9% during the first half of 2013 compared to 2012 levels.
Notable hotel openings include IHG's first venture into Nigeria with the InterContinental Lagos (IHG's sixth hotel in sub-Saharan Africa) and the opening of the Staybridge Suites Beirut (IHG's first serviced apartment property in Lebanon).
The world's largest Holiday Inn, with 1,238 rooms will be built in Makkah, Saudi Arabia and is due to open in 2016. The hotel will be built specifically to accommodate the millions of Islamic pilgrims who travel to the city every year.
IHG has signed its first Hotel Indigo in Finland. The 120 room hotel is due to open in 2015 and will operate under a franchise agreement with International Restel Hotels Ltd, a trusted partner who already operates all of IHG's existing Finnish properties.
IHG has launched the first customer loyalty programme to offer free internet globally.
Hilton Worldwide
Hilton Worldwide will seek to raise at least $1.25 billion from an initial public offering as owners Blackstone seek to return the hotel chain to the US stock market. New York-based Blackstone privatised Hilton in 2007 for more than $25 billion including debt, one of the largest leveraged buyouts ever. The IPO is expected for the first quarter of 2014 and rumours suggest the company is aiming for an enterprise value of around $30 billion.
Ahead of the IPO, Hilton will seek to refinance $13.5 billion of debt. Blackstone previously planned a larger CMBS deal to finance its Hilton purchase, but that was pulled in 2008.
Hilton reported a net income of $427 million and revenue of $9.4 billion for the year ending in June.
Hilton has introduced its DoubleTree by Hilton brand to Poland with a new hotel in Lodz. Over the last six years Hilton has expanded its Polish portfolio with openings in Gdansk, Krakow and Warsaw.
The DoubleTree by Hilton brand has also entered Barcelona with the announcement of a franchise agreement that will lead to the brand's fourth property in Spain.
Hilton has signed to open a pair of hotels in Georgia, the 247 Hilton Batumi and the 165 room Garden Inn Tbilisi, both scheduled to open in 2014.
The first Hampton by Hilton has opened in Russia with two more hotels planned to open by the end of the year. Hilton currently operates five hotels in Russia under four different brands.
Hilton has signed to open a 200 room Hilton hotel in Lagos, Nigeria. The hotel will be located close to the city's financial and business centres and will open in mid-2016.
Hilton has seen an additional 41 hotels open in Q3 and the hotel chain now operates 4,041 hotel properties across 90 countries worldwide.
Starwood Hotels & Resorts
Starwood has reported an adjusted EBITDA of $301 million for the third quarter of 2013, including $19 million from the St. Regis Bal Harbour residential project.
Including special items, Starwood's reported revenue for owned, leased and consolidated joint venture hotels was $157 million, compared to $147 million in the third quarter of 2012. Excluding special items, income from continuing operations was $137 million compared to $114 million for the same period last year.
For the nine months ended September 2013, total income was $437 million, an 8% increase compared to last year ($405 million).
Globally, system-wide RevPAR increased 4.7% in constant dollars, whilst core management and franchise fees have increased 9.7% compared to 2012. In North America, occupancy remained strong and RevPAR saw a healthy increase of 6.9% for company-operated hotels.
The company expects RevPAR to increase between 5% and 7% in 2014.
During the third quarter of 2013, the company signed 36 hotel management contracts, representing approximately 7,800 rooms, of which 29 are new builds and seven are conversions from other brands. At the end of September, Starwood had approximately 400 hotels in the active pipeline representing around 100,000 rooms.
Starwood has opened 15 new hotels and resorts in the third quarter, representing approximately 3,700 rooms. Notable openings in the EMEA region include the St. Regis Abu Dhabi (268 rooms) and the Sheraton Moscow Sheremetyevo Airport Hotel (342 rooms).
During the quarter, eight properties (representing 1,400 rooms) were removed from the system.
Starwood has announced an aggressive growth strategy in in Saudi Arabia, where it operates 10 hotels and has another nine under development. The kingdom is Starwood's second largest market in the Middle East after the UAE.
The company has also announced that it plans to increase its African portfolio by nearly 30%, with 10 new hotels set to open over the next three years (4,200 rooms). Key growth markets include Nigeria, Angola and Gabon.
Starwood has introduced it's Aloft brand into Ukraine with opening of Aloft Kiev in 2015. The company currently operates 75 hotels worldwide under the Aloft brand.
Marriott International
Marriott International has announced revenues of approximately $3.3 billion for the second quarter of 2013. Due to the company's change in the fiscal calendar beginning in 2013, the second quarter of 2013 reflects the period from April 1, 2013 through June 30, 2013 (91 days) compared to 2012 second quarter, which reflects the period from March 24, 2012 through June, 2012 (84 days).
The company also posted a Net Income of $179 million, a 25% increase compared to the same period in 2012.
Base management and franchise fees totalled $343 million, a $57 million increase from the second quarter of 2012. The company estimates $24 million relates to the changes in the fiscal calendar.
Owned, leased, corporate housing and other revenue, net of direct expenses, totalled $51 million, compared to $61 million a year ago. The decline reflects $4 million of expenses relating to three international lease terminations, weaker operating results at several international properties, lower residential branding fees and lower corporate housing revenue, net of expenses, due to the sale of the corporate housing business in the second quarter of 2012.
On a constant dollar basis, system-wide RevPAR increased 5.3% in the second quarter, with ADR up 4.3%. Marriott expects full year 2013 RevPAR to increase 4.5% to 6.0% in North America, 2% to 4% outside North America and 4% to 6% worldwide.
Worldwide development pipeline for the group increased again in Q2 to more than 140,000 rooms. Nearly three-quarters of the increase came from international markets, reflecting Marriott's plans to expand into 25 more countries in the next three to four years with a focus on Africa and Italy.
Notable openings include the 173-bed London Edition, the 532-bed Ritz-Carlton Abu Dhabi (the ninth Ritz-Carlton in the Middle East) and the JW Marriott Resort & Spa on the island of Sacca Sessola in Italy.The company currently operates more than 3,800 properties in 72 countries.
Marriott has announced the rollout of its new 'Travel Brilliantly' campaign, a multi-year global marketing campaign for Marriot International's flagship brand, Marriott hotels. The scheme includes a new logo, new designs and new service offerings.
The company has revealed it will voluntarily transfer the listing of its common stock to the NASDAQ Global Select Market from the New York Stock Exchange (NYSE). Trading of Marriott's shares on NASDAQ is expected to commence on October 21, 2013 under its current ticket symbol 'MAR'. Marriott will continue to trade on the NYSE until that time.
Marriott International CEO Robert McCarthy has announced his retirement at the end of February 2014 after 38 years of service.
Hyatt Hotels
Hyatt Hotels has reported an adjusted EBITDA of $212 million for Q2 2013 compared to $180 million in the same period of 2012, an increase of 17.8%. Net Income was $112 million compared to $39 million last year, an increase of over 180.0%.
Adjusted EBITDA for Hyatt's EMEA and SW Asia management segment increased 150.0% in the second quarter of the year compared to the same period in 2012.
Hyatt has reported a group-wide RevPAR increase of 3.9%. RevPAR for comparable EMEA/SW Asia hotels increased 5.3% (6.1% excluding the effect of currency).
Revenue from management and franchise fees increased 75.0%, primarily due to newly converted hotels which were seasonally stronger in the second quarter.
The company repurchased 4.8 million shares of common stock for an aggregate purchase price of approximately $196 million ($41.10 per share). Since May 2011 the company has repurchased over $750 million of stock, thereby reducing net shares outstanding by approximately 10.0%.
Hyatt expects to spend approximately $250 million on capital expenditure in 2013, inclusive of $80 million towards construction of new hotels.
The hotel operator hopes to create long-term value through a balanced approach to capital expenditure, investment spending, the return of capital to shareholders and a strategic focus on asset recycling.
The group hopes to introduce its first two all-inclusive resorts, each in Mexico, by the end of the year.
Hyatt have increased their investment spending outlook for 2013 to over $500 million, including an expected $325 million investment in the all-inclusive resort segment.
Sixteen hotels were added in the second quarter of 2013 and the company expects that 200 new properties (around 45,000 rooms) will be opened in the future under a number of the company's various brands. A number of these contracts represent potential entry into several new countries and expansion into new markets, along with expansion into markets in which the company is under-represented.
Accor
Accor have reported a 3.8% increase in gross revenue for the third quarter of 2013 when compared to last year and an increase in gross revenue of 4.2% for the first nine months of the year to €8.6 billion, thanks primarily to asset-light expansion under management and franchise agreements.
The group has reported a very strong 18.2% increase in revenue from management and franchise fees in the third quarter.
Upscale and Midscale hotel revenue was up 3.6% like-for-like due to solid demand from leisure customers during the summer and from business customers in September, especially in France and Northern Europe. The period also benefitted from a number of renovated flagships, such as the Pullman London St Pancras and Pullman Paris La Défense, which boosted the performance of the Upscale segment.
Revenue for Economy hotels was up 4.2%, benefitting from the positive impact of a new distribution and marketing policy introduced since the beginning of the year.
The group has seen changes in the scope of consolidation due to asset disposals, which reduced revenue by €205 million and growth by 4.9%.
The group remains confident for the last part of the year, thanks to solid demand in Europe and growth in emerging markets and expects similar business trends for the remainder of the year.
Accor has opened 113 hotels in the first nine months of 2013 (14,100 rooms), of which 82% are under management and franchise agreements and 52% in emerging markets.
At present, Accor has presence in 92 countries with more than 3,500 hotels and 450,000 rooms.
Sébastien Bazin has been appointed as Chairman and CEO of Accor as of August 2013. Sébastien has ended all his duties at Colony Capital, which he had been heading since 1997.
NH Hoteles
Revenues in Q2 dropped for the second quarter running (-3.1%) as a result of the exclusion of hotels no longer belonging to the group, the slowdown of MICE sales and restaurant business (-3.1%) and a fall in ADR (-4.1%) when compared to last year.
Recurring EBITDA for the group stands at €50.9 million and net profit is positive due to net capital gains generated by non-recurring activity.
Year-on-year RevPAR has seen a slight improvement in the second quarter of the year, decreasing 0.3% compared with a 1.5% decrease in Q1. Results were negative in all markets excluding central Europe and Italy which both saw positive growth (+4.0% and +2.1%, respectively).
In the first six months of 2013, NH hotels increased room supply by 70 rooms across two hotels. The group has not signed any new contract agreements.
On 24th June, the group announced the sale of the Hotel Krasnapolsky in Amsterdam to AXA for a gross sale price of €157 million, with NH retaining a management agreement for a 25-year period (with estimated management fees exceeding €2 million a year). The disposal implied gross capital gains for the hotel operator amounting to €42 million. The buyer will invest nearly €40 million in refurbishing the hotel.
A total of 755 rooms left the group during the first six months of the year.
Collective dismissals were performed in Italy and Spain in order to improve efficiency and flexibility across the group. The focus was on outsourcing room cleaning activities at more than 20 hotels for each country (representing an annual saving of €7.5 million for Italy and €8 million for Spain.)
The company continues to progress with its 5-year strategic plan. Main initiatives include re-designing the NH brand, segmenting and optimising its portfolio, updating its product and re-inventing 'the NH experience'.
Spanish bank Kutxabank has sold 5% of its shares in NH hotels, in a €60 million deal (€3.85 a share). Fellow banks BMN and NCG Banco have also reduced interests in the company.
Meliá Hotels International
Meliá Hotels International has reported consolidated EBITDA growth of 16.0% for the first half of the year when compared to last year. The results are explained by a positive performance of the hotel business and several asset sales.
Net profit reached 10.3 million, a 3.8% increase over the same period 2012.
The company remains confident about the evolution of the hotel business in 2013 after reporting a 5.5% increase in RevPAR for the first half of the year. Meliá expects further medium single-digit RevPAR growth for the remainder of 2013.
Meliá expects the main driver of success will be international markets (particularly the UK, Central Europe and Russia), offsetting a fall in the Spanish market. The company is particularly confident about its sales through its website, Melia.com, which has seen significant growth of 24% to date.
Net debt for the group at the end of June 2013 stands at €1.6 billion, an increase of 4.9% compared to June 2012. This increase is primarily due to a reduction of cash while gross debt remains almost flat.
The group has increased its pace of growth for the second quarter, opening 16 hotels in the first half of the year (a new hotel every 2 weeks). Notable openings in the first half of 2013 include new hotels in Brazil (Meliá Paiva and Innside Barra), the signing of a new hotel in Sicily, and the recent opening of the Meliá Villa Capri in Italy. The company has identified further growth opportunities in Italy under low capital intensive formulas.
During Q2, two hotels have been removed from Meliá's system; the Sol Kipriotis in Greece (651 rooms) which operated under a franchise agreement and was removed from the group for failing to comply with brand standards, along with one hotel in Asia (685 rooms).
To date,Meliá's portfolio consists of 53 signed hotels (15,065 rooms), of which 94% are outside Spain, 62% in emerging markets and 90% in the Upscale segment. The company has a pipeline of 53 new hotels with 15,065 rooms, of which 94% will be outside Spain and 64% will be located in emerging markets such as Brazil, Costa Rica, Cape Verde, China and Vietnam.
The company will continue to maintain a balance between its urban (53%) and resort (47%) segments, with a focus towards upscale and premium hotels (90% of room supply).
Host Hotels & Resorts
Host Hotels has announced an increase in owned hotel revenues of 9.4% for the second quarter and 7.2% for the first half of 2013 compared to 2012.
The operator has also reported an increase in net income of $58 million in the second quarter, a 92.1% increase year on year. Adjusted EBITDA increased $81 million, or 23.1%. The improvements were a result of a 6.1% increase in comparable hotel RevPAR and strong margin growth in the second quarter.
The increase in comparable RevPAR was primarily driven by improvements in average room rates, coupled with continued occupancy growth. Second quarter and YTD ADR improved 4.5% and 4.3%, respectively.
The company invested approximately $47 million during the first half of 2013 in development and ROI expenditures. Projects complete during the second quarter include the lobby and restaurant renovation at Philadelphia Airport and the restaurant and bar renovation at the Hyatt Regency Reston. Host Hotels expects ROI investments for 2013 of approximately $90 million to $100 million.
The group has also invested approximately $22 million on capital expenditure for recent acquisitions during the first half of the year. During the second quarter, the company completed the renovation of all 1,625 guest rooms at the Manchester Grand Hyatt San Diego. Host Hotels expects that acquisition expenditures will total approximately $35 million to $45 million for 2013.
During the second quarter, the company repaid or redeemed $846 million of debt with an average interest rate of 7.2%, funded through the issuance of $400 million of 3.75% Series D senior notes and available cash. Since January 2012, Host Hotels has reduced its total debt by $1 billion.
The group currently owns 118 propertiesglobally totaling approximately 62,700 rooms. The company also holds non-controlling interests in a joint venture in Europe that owns 19 hotels with approximately 6,100 rooms and a joint venture in Asia that owns one hotel in Australia and a minority interest of two hotels in India.
Whitbread
Whitbread has reported a 12.4% increase in revenue to £1.14 billion in the first half of 2013, primarily due to the opening of new units.
Like-for-like sales for Whitbread's budget hotel chain, Premier Inn, increased 3.3% in the same period, principally as a result of like-for-like RevPAR growth of 2.1% with an improvement in occupancy to 80.3% and an increase in ADR of 0.7%.
The Premier Inn brand has benefitted from a growth in outlets, with Whitbread adding a total of 1,368 new rooms under the Premier Inn badge in the second half of the year. Internationally, Premier Inn has added a third hotel in India, the 109 room Premier Inn Pune. Whitbread currently has 53,039 rooms in the UK with a pipeline of over 10,500 rooms due to open by 2016.
In April 2013, Whitbread announced a new five year milestone to reach around 75,000 rooms by 2018, including 3,000 rooms under the Hub by Premier Inn brand.
Premierinn.com continues to grow in importance with over 85% of transactions and 77% of bookings coming from online bookings. Whitbread will continue to grow its online presence by investing in technology and expanding customer relationship management capabilities with the aim of enhancing the customer experience and RevPAR growth.
Travelodge
Travelodge has announced its location target list for 145 hotels in London. The group currently has 59 hotels (7,633 rooms) across the city. Travelodge will open a further three hotels in London during the remainder of 2013; one in Hounslow, one in Vauxhall and one in Walthamstow, representing an investment of £34 million.
Henderson Global Investors has acquired the freehold of the London Travelodge King's Cross Royal Scot Hotel for £54.1 million. The 40-room hotel is scheduled to undergo renovation in Q1 2014 as part of Travelodge's £57 million investment in refreshing its 500 plus hotels.
Travelodge has opened its sixth hotel in Spain, and its third and largest in the capital city Madrid. Travelodge has invested €42 million into Spain so far in 2013, taking advantage of the country's double dip recession and the associated trend of corporate and leisure Spanish travellers switching from high end hotel brands to budget brands.
Morgans Hotel Group
Morgans Hotel Group reported an adjusted EBITDA of $12.6 million in the second quarter of 2013, a 98% increase over the same period of 2012. This increase was primarily due to an increase in EBITDA at Hudson.
RevPAR at system-wide comparable hotels increased 10.6%, driven primarily by an increase in occupancy of 9.7%. Morgans is projecting RevPAR growth of 8% to 10% across the group for the full year.
The group has increased management fees 19.4% in the second quarter of 2013 due to a $0.9 million termination fee related to Arnes in Boston and a 4.7% increase in fees at existing managed properties.
In July 2013, the company entered into a hotel management agreement for a 211-room Delano-branded condo-hotel to be located in Cartagena, Colombia. The property is scheduled to open in 2016.
The chief executive of Morgans hotel group has been ousted by its largest shareholder, while another is calling for the group to be sold. Michael Gross, who had been CEO since 2011, will be replaced in the interim by Chairman Jason Kalisman.
PPHE Hotels Group
For the first six months of 2013, PPHE Hotel Group reported a total revenue increase of 0.7% to €111.7 million. Like-for-like revenue decreased 2.2% to €108.5 million compared to last year. Reported revenue was impacted by a 3.8% increase in Sterling against the Euro.
EBITDA increase 1.7% to €35.8 million, whilst like-for-like EBITDA was flat at €35.2 million.
H1 average RevPAR was €94.8, reflecting soft market conditions in several European countries putting pressure on average room rates, which decreased by 4.0% to €122.0. This decrease was partly offset by a 2.6% increase in occupancy to 77.8%.
PPHE has completed renovations of the remaining guestrooms at Park Plaza Medulin in Croatia. Renovations of the guestrooms of the former Hotel Palma in Croatia were also completed, along with renovations of a further 36 guestrooms at art'otel Budapest, Hungary.
A €17.5m purchase of two hotels has been completed in Berlin. The art'otels in Mitte and Kundamm were previously leased and will continue to trade as before. PPHE is in talks with a new joint venture partner, who has loaned funds to complete the purchases and intends to convert the loan into a 50% stake in the hotels.
PPHE has submitted a screening opinion to Lambeth Council, London, to convert Hercules House from offices into a new 4-star hotel with up to 450 bedrooms. PPHE currently operates three nearby Park Plaza hotels with over 1,800 rooms, including the Park Plaza Riverbank, which recently secured planning for an extension.
PPHE's portfolio comprises 38 hotels offering a total of more than 8,200 rooms. Its development pipeline includes four new hotels, which are expected to add nearly 800 rooms to the portfolio by the end of 2015.
Other
Valamar Hotels and Resorts has announced that it is to invest €60 million in improving its hotels in Croatia over the next two years, including €25 million in the Isabella Island Resort on the island of Sveti Nikola near Poreč.
Starwood Hotels & Resorts is expanding in Ukraine. The group has just announced the coming Bristol Odessa in December 2013, which marks the Luxury Collection's entrance into the country, followed by the Sheraton brand with the Sheraton Kiev Olympiysky Hotel in January 2016.
Canada Life Investments has sold the freehold of the majority of the 163-bed Metropolitan by COMO hotel on Park Lane to a UK-based investor in excess of the £40M guide price set by Christie + Co. The sale involved 102 hotel bedrooms, Nobu restaurant, Colony Club casino and apartments.
Orient-Express Hotels Ltd has completed a €30m refinancing with Barclays of two of its hotels, the Michelin starred Le Manoir aux Quat'Saisons in Oxford and the Madeira-based Reid's Palace. This latest refinancing follows the €35m refinancing of the group's two Sicilian hotels, Grand Hotel Timeo and Villa Sant'Andrea in September last year.
Hard Rock International has announced the opening of the Hard Rock Hotel Ibiza, anticipated to open in May 2014. The property will be the first Hard Rock Hotel in Europe.
Oman's first Sharia-compliant, alcohol-free, five-star hotel, the Muscat Grand Millennium Hotel, will open next year. The Shaza Muscat Company (SMC) signed an agreement with Millennium and Copthorne Hotels for the management and operation of the property.
Qbic, the first in a new brand of modular, boutique, budget hotels from Holland, will soon launch in London. Located close to Spitalfied Market, the 171-bedroom Qbic Hotel London City is the second property to open following the launch in 2007 of a pilot property, the Qbic Hotel Amsterdam WTC.
Dubai's Habtoor Leighton Group (HLG) has signed a AED1.9bn ($517m) deal with the Al Habtoor Group to be the main contractor for the AED4.9bn ($1.33bn) Al Habtoor City, which is set to become the largest integrated hotel complex in the Middle East. The Al Habtoor City project comprises the construction of three hotels with a total room count of 1623, including a 27 storey W hotel, a 6 storey St Regis and a 37 storey Westin hotel.
Scandic has launched a new urban hotel brand aimed at younger travellers, HTL. It will open the first HTL, a 275 room property in Stockholm, next May and aims to open 20 properties in the next five years. HTL will grow across the Nordic cities, through office building conversions and new builds.
Travel Company Cox & Kings is planning to expand its Meininger hotel chain. The company gained complete control of the German-based group in February this year after Meininger owners decided to sell the remaining 26% share to Holidaybreak, which is part of Cox & Kings. The travel company acquired Holidaybreak in 2011.
Z Hotels has submitted plans for its third London property, a 109-bed hotel just off Haymarket near Piccadilly.
The Shangri-La hotel's opening in the Shard, at London Bridge, has been delayed again, probably until next year. Shangri-La has sacked John Sisk & Son, the contractor on the £40m project, and brought in Chorus Group instead.
Singapore-based hotel group Banyan Tree Hotels & Resorts, which currently operates two resorts in Ras Al Khaimah, is in talks to expand further across the Gulf region, particularly in the UAE.
Capitas Group International (CGI) has announced the signing of a joint venture deal with IFA Hotel Investments to build YOTEL branded hotels across Saudi Arabia.
Millennium Hotels is to open a hotel in Jeddah, Saudi Arabia. A 64 storey tower containing 325 hotel rooms, serviced apartments and branded residences will be completed in 2017. Millennium has over 5,000 rooms in the pipeline in the Middle East. The property will be developed by local partner Al Sharif Manour Bin Saleh Abu Rayash.
Austrian group Vienna International has bought the 123 room Arcadia hotel in Coburg, Germany, which it will also manage. The four star property, purchased from Arcadia, will continue to trade under the Arcadia flag. VI recently opened in Munich and now has 3,200 rooms in the German market.
French hotelier Louvre Hotels Group and German real estate group ARCUS have signed a deal to jointly develop 26 hotels in primarily Central Europe between now and 2020. The deal was designed to develop Louvre's portfolio in the region, particularly in Germany, Austria, and Switzerland.
Arab developer Emaar is planning a chain of cheaper hotels for the Middle East. The brand, to be called Dubai Inn, will be developed with partner Meraas Holding.
UAE-based Rotana Hotels is planning on opening eight new properties every year in the Middle East, in order to hit its target of 100 hotels in the region by 2020.
The immediate future of Puma Hotels has been secured following the announcement that the group has successfully refinanced its loan of £323m. Agreement has been reached with the Irish Bank Resolution Corporation to extend the company's debt facility until 30 May 2014.