Travel & Tourism
Global
According to the World Tourism Barometer, created by the UNWTO, international tourist arrivals grew by 4% in 2012 to reach 1.035 billion. This was driven by an additional 39 million international tourists. Tourism demand remained robust throughout the year with a stronger than expected final quarter.
Following the trend which has marked the sector for many years now, 2012 saw a stronger growth in emerging economies (+4.1%) than in advanced economies (+3.6%). By region, Asia and the Pacific (+7%) was the best performer, while by sub-region South-East Asia, North Africa (both at +9%) and Central and Eastern Europe (+8%) topped the rankings.
The UNWTO forecasts international tourist arrivals to increase by between 3% and 4% in 2013, much in line with its long term forecast for 2030: +3.8% a year on average between 2010 and 2020. Prospects for 2013 are strongest for Asia and the Pacific (+5% to +6%), followed by Africa (+4% to +6%), the Americas (+3% to +4%), Europe (+2% to +3%) and the Middle East (0% to +5%).
EMEA
Similar to trends of previous years, EMEA continued to be the leading region for international tourist arrivals. According to the UNWTO, the region received 640 million visitors in 2012, mainly driven by Europe, reflecting 52% of the worldwide total volume.
EMEA international tourist arrivals in 2012 recorded a 2.9% increase over 2011, slightly below the growth rate of 4.2% in 2011. This was mainly due to a 3.3% and a 6.3% increase in Europe and in Africa respectively, whereas international arrivals in the Middle East declined by 4.9%.
According to the UNWTO, all of the EMEA sub-regions experienced growth in terms of international tourism with the exception of the Middle East.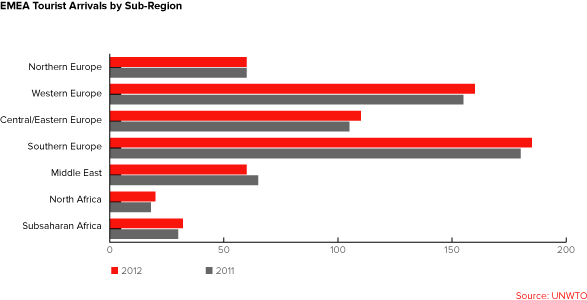 Europe
International tourist arrivals to Europe were up by 3.3%; a very positive result in view of the economic situation, and following a strong 2011 (+6.1%). Total arrivals reached 535 million, 17 million more than in 2011.
By sub-region, Central and Eastern Europe destinations (+8.0%) experienced the best results, followed by Western Europe (+3.0%). Recession and austerity in Southern Mediterranean Europe led to a decline in international tourism growth, moving from 7.4% in 2011 to 2.0% in 2012.
Middle East
A decline in international tourism arrivals continued in the Middle East in 2012, with the region recording 52.6 million arrivals, 4.8% less than 2011. This was mainly due to the continued economic and social uncertainties in the region.
The UNWTO stated that trends in the Middle East are the hardest to forecast due to the volatile environment and the widely varying trends across countries. However, as some countries continue to recover from the recent conflicts, and others continue to push ahead in the development of their tourism industry, figures are expected to be positive in 2013.
Africa
Africa (+6.3%) recovered well from its setback in 2011 when arrivals declined by 1% largely due to the political turmoil in North Africa. In 2012, arrivals reached a new record of 52 million thanks to a growing amount of tourists returning to North Africa (+8.7% in 2012). Destinations in Sub-Saharan Africa also reported a growth in tourism arrivals (+5.0%). The UNWTO has projected that international tourism arrivals for the African region will strengthen by 4% to 6% in 2013.
Hotel Performance
Global
In 2012, the global hotel market saw improved RevPAR performance in every region when compared to 2011 according to STR Global. The Americas region posted the highest RevPAR increase at 6.3%, followed by the Middle East/Africa at 5.6%, Europe at 4.8% and Asia Pacific at 1.4%.
Europe
Hotel operating results across Europe remained surprisingly buoyant in spite of European economies falling back into recession. Across Europe, RevPAR improved by 4.8% due to a 4.7% growth in ADR whereas occupancy remained flat, when compared to 2011.
When analysed in regions, Northern and Eastern Europe reported the highest RevPAR increases, both at 8.6%, followed by Western Europe (+2.7%) and Southern Europe (+1.1%).
In 2012 demand (measured in occupancy) in Europe increased most significantly in Reykjavik (+12.7%), Bratislava (+10.4%), Moscow (+4.9%), Dublin (+4.9%) and Berlin (+4.7%).
Middle East / Africa
The Middle East and Africa region also recorded healthy results with an overall RevPAR growth of 5.6%, a significant improvement on the 1.8% fall in RevPAR in 2011. Despite the on-going instability, Northern Africa posted the highest growth, showing an impressive 16.8% improvement in occupancy to 52%. However, average daily rates continued declining (-6.1%) causing RevPAR to remain significantly below historic levels.
Egypt finished 2012 with the highest RevPAR increase at 14.3% fuelled by a 17.5% improvement in occupancy. ADR on the contrary continued to decline (-2.7%). However, this growth came from a very low base and RevPAR is still far from returning to levels achieved before the Arab spring.
In Dubai, a strong growth in tourism arrivals led to year-on-year occupancy and ADR increases of 3.3% and 7.9% respectively, causing RevPAR to move closer to its 2008 peak. RevPAR growth was also seen in Jordan (+13.6%), Saudi Arabia (+11.1%) and South Africa (+12.4%).
Hotel Supply
Current and future hotel supply
Europe and the MEA region continue to have stark differences in their hotel segments of supply and pipeline for 2012. As reported by STR Global, Europe saw a total of 41,982 rooms open in 2012, the majority of which were in the economy class, making up 33% of the total new room stock. This is significantly different from the MEA region which saw 15,735 new hotel rooms come to the market, of which just 242 were in the Economy class, equating to about 2% of new hotel room openings. This is due to MEA's strong investor interest in the upscale and luxury hotel sector, reflected in the large amount of new hotel openings in these segments in 2012. Although the midmarket and budget hotel sector does not currently have a large market share, the MEA region has been experiencing a steady increase in this segment in recent years.
According to STR Global, the European hotel development pipeline comprises of 844 hotels with 141,273 rooms and the Middle Eastern/African pipeline of 478 hotels totalling 119,233 rooms.
Global Hotel Pipeline
Asia Pacific continues to dominate the global hotel pipeline with 377,036 new rooms, representing 40% of the total new room stock. Americas is expected to be the second most active development region with 2,634 new hotels and 304,077 rooms (32% market share). Europe currently has 844 hotels in the pipeline with 141,273 rooms and the MEA region will see the opening of 478 hotels totalling 119,233 rooms.
EMEA
Despite the on-going financing difficulties for new hotel projects a number of markets will experience a significant growth in hotel supply including London, Berlin, Istanbul, Dubai and Abu Dhabi.
In London, 31 hotels with 4,600 bedrooms are scheduled to open in 2013, and 26 hotels with 4,200 bedrooms are planned to come online in 2014, reflecting a supply growth of 4% in 2013 and 3% in 2014. Significant highlights will include a 202-bedroom Shangri-La Hotel in 2013. The hotel will be located in the Shard, a new landmark skyscraper in Southwark. In January 2011, planning permission was also granted for the €580 million Heron Plaza development. The 43-storey tower will house a new 190-bedroom Four Seasons Hotel & Residences which is expected to open in 2015. Most development activity will be occurring in the boroughs of City of Westminster, City of London and Southwark.
Berlin will experience a strong supply growth with some 4,000 rooms entering the market in 2013 and about 2,000 rooms in 2014. We note that, although the growth in new hotels is expected to continue over the next few years, the supply pipeline has already started to slow down, with many operators already having a presence in the city and fewer central sites being available. The new developments will be primarily located adjacent or in close vicinity to the major infrastructure projects, such as Berlin Brandenburg Airport, Alexanderplatz and 'MediaSpree'.
Abu Dhabi will also witness a substantial increase in hotel supply as new 4 and 5-star hotels enter the market in the next two years. The majority of new developments will be branded by international operators including a new Courtyard by Marriott, Four Seasons, Ritz Carlton, St Regis and W Hotel. 2013 is expected to see approximately 2,900 new rooms, many of which will be managed by the Rotana Hotel Management Corporation. Historically however, hotel projects in the emirates have suffered from delays. In addition, considering the current investment and development climate, many projects are being reviewed and prioritised, and it is likely that many planned and proposed projects will experience delays or be put on hold.
Industry Trends
The UNWTO revealed that during 2012, Chinese travellers spent $102 billion on overseas travel, a 40% increase from the previous year, ranking the nation first in the international tourism spending league. This was supported by 83 million overseas trips taken by Chinese nationals during 2012, a figure that stood at just 10 million in 2000.
Another emerging market that has moved up the list is Brazil, which advanced from 29th place in 2005 to 12th place in 2012. The country's population spent over $22 billion on foreign tourism in 2012.
The UNWTO also recorded that tourists from established nations increased their overseas spend. Germans and US citizens increased their spending by 6%, while UK tourists increased their foreign spending by 4%.
Some nations, however, appear hunkered down in the face of hard times: France and Italy recorded 6% and 1% reductions in foreign tourism spend, respectively.
According to the Global Business Travel Association (GBTA), European business travellers are expected to increase their spending this year, in a clear sign that the worst is over for the majority of European economies.
It predicts that in 2013, Germany will be the market that sees the highest growth in business travel spending, with an improvement of 5%. Lagging behind, the UK will record an uplift of 1.9%.
Reliant on local and neighbouring and domestic activities, countries in Southern Europe will continue to weigh down the continent. Spain's market is expected to contract as business travel spending is forecast to decline by 6.2% during 2013. Italy is also expected to post negative results with a decline of 2.9%. France is also expected to see a 1.4% decline in business travel spending.
Regional Performance
Europe
During the first three months of 2013, the European hotel industry experienced low growth rates when compared to the same period in 2012. Data published by STR Global (measured in Euros) reveal that for YTD March 2013 Average Daily Rates (ADR) fell by 1.1% in Europe. Occupancy rates however increased by 1.2%, resulting in virtually flat Revenue Per Available Room (RevPAR) levels (+0.1%).
Unlike in previous quarters, Southern Europe reported the highest RevPAR growth in Q1 2013 of 4.3%. This was backed by a 1.2% increase in occupancy and a 3.1% ADR growth.
Hotels in Turkey managed to increase their ADR by a noteworthy 8.3% whilst maintaining an occupancy growth of 2.0%. Hotels in Istanbul performed exceptionally well, achieving a RevPAR growth of 11.8%. Trading conditions for the remainder of 2013 are, however, anticipated to become more challenging as room supply in the capital continues to grow.
Plagued by recession and economic uncertainty, Greece was the worst performing hotel market in Southern Europe. Hoteliers reported declines in both occupancy (-8.7%) and ADR (-4.8%) respectively.
Hotels in Eastern Europe recorded a minor 0.5% decline in RevPAR due to a 2.7% drop in ADR.
Slovakia was the best performing country in Eastern European posting a RevPAR growth of 12.2%. This was backed by a 13.5% increase in occupancy rates, albeit from a low base.
Hungary also fared well in terms of occupancy, increasing by 7.8% year on year. This offset a 1.3% decline in ADR. Budapest also recorded positive results with RevPAR increasing by 3.3% in Q1 2013.
Russia was the only other country in Eastern Europe with a positive RevPAR growth at 3.1%. Poland, the Czech Republic and Romania reported weak trading performance results during Q1 2013 with RevPAR declines of 7.4%, 2.6%, and 0.6% respectively. Results in Poland indicate a EURO 2012 hangover after having posted strong RevPAR growth last year (year end RevPAR gowth of 10%).
The hotel market in Western Europe saw declines in both occupancy rates (-0.2%) and ADR (-0.9%), resulting in an overall RevPAR decline of 1.1% in Q1 2013. France and Germany were the only two countries in the region that managed to achieve a significant growth in trading performance, with RevPAR increasing by 1.8% and 1.4% respectively. Berlin and Paris both saw RevPAR increase by 4.3%. These two cities continue to benefit from robust levels of inbound tourism.
Austria's RevPAR levels remained relatively flat, increasing by just 0.4%. This resulted from a 0.9% increase in occupancy which offset a 0.4% decline in ADR.
The Dutch hotel market was the weakest market in Western Europe posting declines in both occupancy and ADR of 0.3% and 6.0% respectively. RevPAR in Amsterdam fell by 4.3% year on year. Switzerland and Belgium also saw declines in RevPAR of 5.7% and 2.3% respectively.
Despite achieving a 2.0% increase in occupancy rates, hotels in Northern Europe saw ADR decline by 3.2%, resulting in a RevPAR contraction of 1.2%.
A somewhat exception during this period was Ireland where hotels recorded a RevPAR improvement of 12.2%, fuelled by increases in both occupancy (+6.7%) and ADR (+5.2%). The Irish hotel market therefore continues its recovery benefiting from robust levels of tourism demand and a weak development pipeline.
Estonia also fared exceptionally well during Q1 2013 as room rates increased by 8.0% and RevPAR by 11.9%.
Weaker occupancy rates (-7.6%) and a virtually flat ADR (+0.7%) resulted in a 6.9% RevPAR decline in Finland. The United Kingdom saw an increase in occupancy rates (+2.2%), however struggled to maintain ADR which fell by 4.2%. Hotel trading performance in London was also below last year's levels with RevPAR contracting by 7.3% due to a 5.7% decrease in ADR and a 1.6% fall in occupancy levels. Hotels in the capital have therefore discounted rates in order to stimulate the market. New hotel supply also seems to have a negative impact on hotel trading performance in the capital.
Middle East & Africa
The Middle East and Africa (MEA) region posted strong results in the first quarter of 2013 when measured in US Dollars. Occupancy (+5.9%) and ADR (+3.1%) were both up, resulting in a 9.2% increase in RevPAR.
Muscat was the best performing market during Q1 2013, achieving a 16.4% increase in occupancy levels which boosted RevPAR by 17.3%.
Manama was the second best performing market in the region, hotels reporting a 14.2% increase in occupancy year on year.
Lagos, the largest city in Nigeria, also managed an overall 11.7% RevPAR growth. This was primarily due to a 11.6% increase in occupancy rates which rose to 67.2%, 3.1 percentage points above the MEA average.
Despite a high number of hotel openings, Dubai also managed to attain a double digit RevPAR growth of 11.6%, primarily driven by higher room rates (+8.7%)
Growth in hotel trading performance was also reported in Jeddah (+9.5%), Abu Dhabi (+8.9%) and Cairo (+4.7%).
The markets with the weakest RevPAR trading in MEA were Beirut (-32.0%), Amman (-17.9%), and South Africa (-4.0%).
Supply
The hotel development pipeline for Europe consists of 818 hotels totalling 135,115 rooms, according to March 2013 STR data. Among the key markets in the region, Manchester is the city that reported the largest expected room growth (+22.%) if all 3,061 rooms in the market's total active pipeline open. Other markets reporting significant room growth are: Birmingham (+17.5% 1,702 rooms); Istanbul (+14.9% with 5,447 rooms); London (+14.1% with 16,392 rooms) and Moscow (+12.7% with 4,697 rooms).
In the Middle East/Africa region, developments include 483 hotels totalling 118,713 rooms. During the first three months of 2013, 11 hotels opened in the region with 1,683 rooms. In the remainder of 2013, 133 more hotels are expected to open with 34,931 rooms. The Upper Upscale segment the Luxury segment and the Upscale segment are expected to open 6,950, 6,855 and 6,639 rooms respectively. In 2014, 141 hotels are expected to open with 30,924 rooms. The most rooms are expected to open in the Upper Upscale segment (11,269 rooms), followed by the Luxury segment (6,186 rooms) and the Upscale segment (5,909 rooms).
Transactional Activity Q1 2013
| | | | | | | |
| --- | --- | --- | --- | --- | --- | --- |
| Hotel | Location | Sale Price (€m) | Grade | Rooms | Buyer | Seller |
| InterContinental London Park Lane | London | 353 | 5 Star | 447 | Middle Eastern Investor | IHG |
| Mandarin Oriental Hotel Paris | Paris | 290 | 5 Star | 138 | Mandarin Oriental Hotel Group | Société Foncière Lyonnaise |
| Movenpick Beirut (93% Achour Holding) | Beirut | 100.5 | 5 Star | 292 | Achour Holding | Kingdom Hotel Investments |
| Sofitel Le Faubourg | Paris | 113 | 5 Star | 147 | Mount Kellett Capital | Accor |
| Holiday Inn Frankfurt | Frankfurt | Confidential | 4 Star | 249 | Union Investment | Talanx |
EMEA hotel transaction volumes for the first quarter of 2013 reached €3.9 billion. This reflected a 46% increase when compared to the same period last year. Portfolio sales comprised the majority of transactions, amounting to €2.7bn, or 68% of total volumes. This was driven by two large portfolio sales, namely the 42 hotel UK Marriott portfolio and the French Groupe Du Louvre Portfolio. Jones Lang LaSalle was retained as the exclusive representative on both of these transactions.
Transaction volumes in the United Kingdom amounted to €1.7bn during the first quarter, a 72% increase year on year . France was second place in terms of transaction volumes, totalling €1.3bn, followed by Germany (€550m) and Spain (€174m).
The most notable single-asset transaction during Q1 2013 was the sale of the InterContinental London Park Lane. The short leasehold interest (approximately 57 years remaining) was acquired by a private Middle Eastern investor for a sum of £302 million. In a continuation of their long-planned "asset light" strategy, IHG timed the sale of their London flagship hotel to take advantage of strong demand for prime central London assets. Jones Lang LaSalle acted as sole exclusive agents on behalf of IHG.
As mentioned earlier, the largest portfolio transaction in Q1 2013 was the UK Marriott Portfolio. The 42 hotel portfolio, comprising over 7,800 bedrooms was sold to a Middle Eastern HNWI. The hotels continue to be operated by Marriott subject to long term Management Contracts.
Sovereign Wealth Funds were the most active buyer type constituting of 36% of total transaction volumes, or €1.4bn. Investment funds were second-most active with an 18% market share, followed by hotel operators (10%).
Administrators were the most dominant seller type in Q1 2013 with a 24% total market share. This was followed by investment funds (23%) and hotel operators (22%).
Company News: Strategy and Development
Rezidor Hotel Group
Rezidor's revenue was in line with last year, but was negatively impacted by the timing of Easter, estimated at €7m.
Revenue for leased hotels decreased by 1.4%, while fee revenue was up 13.6% as a result of the strong RevPAR development in Eastern Europe, the Middle East and Africa.
The group's like-for-like RevPAR increased by 9.8% in January and 8.1% in February. The positive trend continued in March, however, due to the timing of Easter this year the accumulated increase for the quarter ended at 5.7%.
All four geographic segments reported RevPAR growth in Q1 over last year. The strongest development was seen in the Middle East and Africa region, as travel continues to return to most of the countries suffering from unrest, combined with strong RevPAR growth in Saudi Arabia, South Africa and the United Arab Emirates.
Eastern Europe continued to show strong improvements in RevPAR with the Baltics, Russia and Poland all having a positive first quarter.
The Nordics and Rest of Western Europe generated a lower RevPAR growth based on a combination of the Easter and related holidays plus soft RevPAR developments in Denmark, Sweden, Switzerland and the Benelux due to lower demand.
Norway and the UK had the most positive RevPAR developments linked to developments in the leisure segments.
The group signed five new hotels with over 1,000 rooms and opened five properties with 940 rooms in the first quarter of 2013.
At the end of Q1 2013, Rezidor's operating portfolio comprises 338 hotels with over 74,000 rooms in 56 countries across Europe, the Middle East and Africa.
InterContinental Hotel Group
2012 was another year of progress for the InterContinental Hotels Group with preferred brands driving RevPAR up 5.2%, led by the US up 6.3%. Together with 2.7% net rooms growth, which is fuelled increasingly by the group's expansion in developing markets, this drove up fee revenues by 6.8%.
The financing environment remained tough through 2012 in many key markets, but however the group signed on average one hotel a day into its pipeline.
In Europe, RevPAR increased by 1.7% year on year. RevPAR during the year grew by 2.5% in the UK and by 5.4% in Germany, where the industry benefited from a busy trade fair schedule.
Revenue increased by 8% to $436m and operating profit increased by 11% (16% at CER) to $115m. At CER and after adjusting for a leased hotel disposal and excluding results from managed lease hotels, revenue increased 5% and operating profit increased by 16%. This was driven by a 2.1% increase in net system size and solid RevPAR growth, including 8.0% at the InterContinental London Park Lane and 2.5% at InterContinental Le Grand Paris.
IHG announced that it will receive $31m in significant liquidated damages in Q1 2013 from FelCor Lodging Trust (FelCor). This payment is the result of an agreement between IHG and FelCor that eight properties owned by FelCor (2,526 rooms), currently branded as Holiday Inn hotels, will leave IHG's system on 1 March 2013.
These eight hotels generated $8.5m of fees for IHG in 2011, around 1% of total Americas fee revenue, and represent less than 1% of all rooms branded as Holiday Inn or Holiday Inn Express in the region.
IHG signed 7,000 rooms (48 hotels), up 22% on 2011, including the first 2 Holiday Inn Express hotels in Russia, 6 Holiday Inn brand family hotels in Germany and 7 Hotel Indigo hotels, with firsts for this brand in France, Israel and Spain.
5,000 rooms (39 hotels) were opened into the system, the highest number of hotel openings in the region in the last 4 years.
Openings included InterContinental London Westminster, IHG's second for the brand in London, and 5 Hotel Indigo hotels, doubling the system size in Europe for the brand.
Hilton Worldwide
Hilton Worldwide is set to open 10 new hotels in central Europe as part of a strategic development agreement with Foremost Hospitality Management. The hotels will join under the economy and mid-market brands Hampton by Hilton and Hilton Garden Inn.
The deal will see Foremost operate the hotels through individual franchise agreements and the partnership aims to benefit from the growing demand for mid-priced hotels in the region.
Schiphol Real Estate has begun construction of a Hilton Hotel at Amsterdam Airport Schiphol. The new Hilton hotel will have 433 guest rooms, 23 conference rooms, a ballroom accommodating 600, a restaurant and bar, executive lounges, and spa and gym facilities.
The group also announced that its Hilton Garden Inn brand will add more than 1,100 rooms to the company's development pipeline following the signing of seven new hotel agreements in Turkey. Hilton Garden Inn has grown significantly across the country in the last four years, with ten hotels under development and five hotels trading in locations such as Istanbul, Kutahya, Konya, Mardin and Sanliurfa.
Hilton Worldwide currently operates more than 5,500 bedrooms in 22 hotels. In 2011 Turkey accounted for 5% of all Hilton Worldwide global room openings.
The group also announced the official opening of the first DoubleTree by Hilton hotel in South Africa - the 183-room DoubleTree by Hilton Cape Town - Upper Eastside. The hotel is owned and operated by Upper Eastside Hotel (Pty) Ltd under a franchise license agreement and becomes the fifth Hilton Worldwide property in South Africa and the third DoubleTree by Hilton in Africa.
Starwood Hotels & Resorts
During Q1 2013, Starwood Hotels & Resorts' Worldwide RevPAR for Same-Store Hotels increased 4.6% in comparison to the first quarter of 2012.
RevPAR in Europe declined by 0.4% over the same period, however the ME region recorded a noteworthy 6.0% increase in the same metric.
On a global scale, Starwood's best performing hotel brand was the St Regis/Luxury Collection, achieving a 10.4% RevPAR increase during the period, followed by W Hotels (+7.9%), Westin (+3.1%), Sheraton (+3.2%) and Le Meridien (+2.3%).
Management fees, franchise fees and other income were $217 million, up $16 million, or 8.0% compared to the first quarter of 2012. Management fees increased 7.8% to $124 million and franchise fees increased 6.7% to $48 million.
Starwood signed 26 hotel management and franchise contracts in Q1 0213, representing approximately 6,200 rooms, of which 20 are new builds and 6 are conversions from other brands.
18 new hotels and resorts (4,000 rooms) entered the system, including Le Méridien Dallas, The Stoneleigh (170 rooms), The Westin Birmingham (Birmingham, 294 rooms), The Westin Panama (218 rooms), Sheraton Dubai 4 Mall of Emirates Hotel (481 rooms), Aloft Kuala Lumpur Sentral (482 rooms), and W Guangzhou (317 rooms).
During Q1 2013, five properties (900 rooms) were removed from the system.
As of March 31, the company had approximately 400 hotels in the active pipeline representing approximately 100,000 rooms.
Starwood has signed to open a W branded hotel in the city of Jaffa, its first in Israel. Construction will begin in early 2015, while apartment sales will commence in the second quarter of 2013.
The group is planning a major expansion of its Sheraton brand with 30 new hotels launching in the next 12 months - half of which will open in China.
Sheraton is slated to open 15 new hotels in China over the next 12 months and expects to have 80 Sheraton-branded properties in the country by 2015.
The brand will also expand its portfolio in Africa and the Middle East with the addition of four new hotels including the fourth Sheraton in Saudi Arabia- Sheraton Medina Hotel, Sheraton Dubai Mall of Emirates and the first in Tajikistan - Sheraton Dushanbe Hotel.
The company has also announced a $200m refurbishment plan for its Le Meridien hotels in the Middle East and Africa. A three year programme will see 13 hotels undergo upgrades.
Starwood Hotels & Resorts have announced plans to open 50 new hotels in Europe over the next five years, increasing its European hotel portfolio by 30%.
Starwood is eyeing up a luxury hotel brand acquisition. If a global brand becomes available at the right price, cash flow will be used for the purchase, said executives during an investor day in Dubai.
Marriott International
Marriott International's revenues totalled over $3.7 billion in the 2012 fourth quarter, compared to adjusted revenues of $3.4 billion for the fourth quarter of 2011.
For full year 2012, 33% of worldwide company-managed hotels earned incentive management fees compared to 29% in 2011.
During the first quarter of 2013 The Abu Dhabi Investment Authority completed the purchase of 42 Marriott hotels for £640m. The hotels were previously owned by a joint venture between investor Igal Ahouvi, Israeli investment company Delek Global Real Estate and Avestus Capital Partners.
Marriott added 13,982 rooms in 2012 and its pipeline stands at 800 properties with close to 130,000 rooms.
The company expects full year 2013 comparable system wide RevPAR will increase 4% to 7% in North America, 3% to 5% outside North America and 4% to 7% worldwide.
Revenue is forecast to total $1,525 million to $1,575 million, reflecting growth of 7% to 11% over 2012 fee revenue of $1,420 million.
Marriott also expects that owned, leased, corporate housing and other revenue, net of expenses could total $135 million to $145 million in 2013, a 12% to 18% decline year-over-year.
The group has stated that 2013 expected results reflect tougher year-over-year comparisons due to the London Olympics, renovations at some international leased hotels in 2013, higher pre-opening expenses, and lower termination and residential branding fees.
Marriott anticipates adding approximately 30,000 to 35,000 rooms worldwide for the full year 2013 and also expects approximately 10,000 rooms will leave the system during the year.
Hyatt Hotels
Hyatt Hotels' RevPAR for comparable EAME/SW Asia hotels decreased 0.8% in the fourth quarter of 2012 compared to the same period in 2011. Occupancy increased 220 basis points and ADR decreased 4.0% when compared to the same period in 2011.
RevPAR was negatively impacted by lower performance in markets in the Middle East and in Gulf Cooperation Council countries.
Revenue from management and franchise fees decreased 5.3% in the fourth quarter of 2012 with management and franchise fees impacted by the aforementioned market factors.
The following three hotels were added to the portfolio during the fourth quarter: Park Hyatt Chennai (managed, 201 rooms), Andaz Amsterdam (leased, 122 rooms), Hyatt Place Hampi (managed, 115 rooms).
For full-year 2012, Hyatt added 22 hotels to its portfolio—an increase of 3%. Of those 22 hotels, 13 were opened in new markets. The company has 475 hotels in its portfolio. Seven hotels, representing 3,064 rooms, were removed from the portfolio during the same period.
The company expects that a significant number of new properties will be opened under various company brands in the future. As of December 31, 2012 this effort was underscored by executed management or franchise contracts for approximately 200 hotels (45,000 rooms).
Hyatt has signed management agreements to add four high-end hotels to its French portfolio. Landmark hotels in Cannes, Nice and Paris will be converted to Hyatt and Andaz brands. The deal with Constellation Hotels Holdings will see all four hotels refurbished and as a result Hyatt's presence in France will more than double.
The group also is looking to beef up its presence in growing markets, such as Russia and Brazil.
Accor
Accor's board of directors voted unanimously to terminate Denis Hennequin's mandate as chairman and CEO "with immediate effect." The board decided to install a transition executive team including Yann Caillère, president and COO, to step in as interim CEO.
Philippe Citerne, previously vice chairman of Accor's board, is appointed non-executive chairman and Sébastien Bazin becomes vice chairman of the board.
Accor's revenue in the Upscale and Midscale segment rose by 0.7% like-for-like and declined by 1.6% as reported in the first-quarter. Solid performance in the upscale segment was supported by firm demand in key European cities and in emerging markets.
Business in the emerging markets (except for Australia) remained stable year-on-year, with good performance results in the Africa Middle/Eastern region.
Revenue held stable over the period despite high prior-year comparatives and the impact of the leap year. This performance was led by the solid resilience of the Upscale segment, sustained demand in key cities and the continued transformation of Accor's business model, as manifested in the increase in gross revenue and in management and franchise fees.
First-quarter 2013 trends are expected to continue in the second quarter, given the lack of any observable shift in business at this stage.
In Q1 2013, the group added 4,628 rooms (32 hotels) to its portfolio of which 85% are operated under management and franchise agreements.
Accor expects to increase its presence in sub Saharan Africa with an additional 90 hotels by 2020. The company currently operates 54 hotels in the region. Sub-Saharan Africa has a growing middle class now totalling 300 million, which Accor intends to tap into. The company is focusing on growing its economy Ibis brand and earlier this month opened an Ibis in Dakar, Senegal.
NH Hoteles
Due to the sharp deterioration in the economic climate in southern Europe, NH Hoteles posted a recurring net loss of €66.9m in 2012, compared to a loss of €9.1m in 2011.
As a result of adverse economic trends, particularly in Spain and Italy, the Group tested the recoverable value of its assets on the basis of its business plan, deciding to increase asset impairment provisions to €268m. Consequently, the Group registered a consolidated net loss of €292m.
The Benelux business unit gained momentum in the last quarter of the year: despite downward pressure on prices, NH managed to increase its market share. The occupancy rate in this business segment in 2012 improved by 1.1% across comparable hotels, although the ADR narrowed by 3.4%.
The Central Europe and America business units were the Group's top-performers in 2012. The occupancy rate in the Central Europe business unit rose sharply, as did pricing in all German cities, with Munich and Berlin standing out.
Melia Hotels International
Melia delivered strong 2012 results, with RevPAR up 7.9% across the portfolio. In the Americas, RevPAR was driven up 30.3% led by South American markets. Melia is continuing its strategy of heading upmarket, with 90% of its pipeline outside Spain. The company saw direct online sales grow 23.2% and is targeting a similar growth for 2013.
In 2013, RevPAR evolution will be driven by the performance of the company's resorts worldwide, especially in the Caribbean, where the pace is positive both in leisure and business groups segments.
Due to the macro environment, the company is somewhat more cautious about the performance of the European cities. In Spain, urban destinations are still facing a difficult scenario especially in tier 2 cities. Within this framework, the Melia's bias towards the upscale international segment in Madrid and Barcelona, will contribute to soften the slowdown in domestic demand.
The Spanish hotel group will continue to strengthen its international expansion and business model in 2013 and make progress in its adaptation to changing market conditions. The company added 15 hotels in 2012, with 80% of new room supply being outside of Spain.
In Europe Melia continues to strengthen its presence in Germany, UK, France and Italy while expansion in Spain will be more selective, focused on innovative products which will add greater value to the company's hotel portfolio, such as the Calvià Beach Resort project in Mallorca or the two recently incorporated Innside by Meliá hotels in Madrid, one of the brands with the highest growth potential for the company.
Melia currently has more than 40 hotels and 12,000 rooms in the pipeline, of which twelve are expected to open their doors this year. After the recent opening of the ME London - the new Meliá flagship hotel in the UK, which opened in December 2012 - and the two new Innside hotels in Madrid, the company is now working on more scheduled openings including the ME Vienna.
90% of new supply will be added outside of Spain and 58% in emerging markets. 91% of new rooms will be positioned in the upscale and premium segment.
Host Hotels & Resorts
Host Hotels & Resorts' increase in total revenues for the fourth quarter and full year 2012 reflect the improved performance of the Company's owned hotels as comparable hotel RevPAR increased 5.8% and 6.4% for the fourth quarter and full year 2012, respectively.
In addition, full year 2012 revenues benefited from the results of the 10 hotels (nearly 4,000 rooms) that were acquired during 2011 and the acquisition of the Grand Hyatt Washington in July 2012. These acquisitions increased revenues by an incremental $99 million for 2012.
The increase in comparable hotel RevPAR was primarily driven by improvements in average room rates, coupled with continued occupancy growth.
For the fourth quarter and full year 2012, average room rates improved by 2.8% and by 3.6%, respectively, while occupancy improved by 2.0 percentage points both for the quarter and full year to 72.6% and 74.5%, respectively.
The improvements in revenues led to strong margin growth as comparable hotel adjusted operating profit margins increased 80 basis points and 140 basis points for the fourth quarter and full year 2012, respectively.
Whitbread
Budget hotel chain Premier Inn is set to open four new properties in Scotland adding almost 400 bedrooms to its estate in the country.
The four new sites at Glasgow Pacific Quay (180 rooms), Perth (83 rooms), St Andrews (65 rooms) and Stirling (60 rooms) have been acquired as part of Premier Inn's on-going expansion across the UK to reach its target of 65,000 bedrooms by 2016 – up from its current supply of 52,000.
The group also announced that it is developing a second budget hotel brand as it begins to run out of new Premier Inn locations. The format will be similar to Ikea's Moxy brand.
Travelodge
Travelodge announced that it will invest £223m in 2013. The budget chain plans to open 14 new hotels - including two properties in Spain – in the coming year.
The £223 million investment programme comprises £141.5m for new openings, a £57m refurbishment programme, £12m investment in marketing, £2.5m investment in IDeaS revenue management system and a website refresh and £10m in maintenance.
The £57m refurbishment programme will begin to transform the look of 30,000 of its rooms over the next 18 months. The company, which said it would refit 50 rooms every day until the work was completed, hopes to have completed a makeover of 5,000 rooms by the end of May.
Travelodge has announced plans for a further 145 hotels in London over the next few years. It says hotels already opened in the suburbs are showing high occupancy levels. The budget hotel chain has 59 properties in the capital.
Morgans Hotel Group
For the full year 2012, Morgans Hotel Group's adjusted EBITDA was $22.9 million, a decline of 23.2% from 2011, primarily due to the impact of the Company's sale of its ownership interests in Mondrian Los Angeles, Royalton, Morgans, Sanderson and St Martins Lane in 2011.
For the year, RevPAR for System-Wide Comparable Hotels increased by 4.3% in 2012 from the comparable period in 2011, driven primarily by a 3.4% increase in average daily rate ("ADR").
MHG recorded a net loss of $55.7 million for the year ended December 31, 2012 compared to a net loss of $85.4 million in the same period in 2011, which included approximately $21.0 million of impairment charges recognized related to the company's unconsolidated joint ventures.
PPHE Hotels Group
PPHE Hotel Group purchased (via a subsidiary) the freehold interests of the 109-room Art'otel Berlin Mitte and 133-room Art'otel Berlin Kudamm for €17.5 million. PPHE Hotel Group Amsterdam, already leases and manages the hotels. As part of the deal, the undisclosed seller agreed to pay €2 million to the group upon completion of the sale.
During the first three months of the year the group also exchanged contracts to buy government-let Hercules House in Waterloo for a potential hotel redevelopment. The company has paid £23.5m for the 133,203 sq ft office asset, which sits on a 1.09-acre site. PPHE said it is considering a number of possible uses for the building, including continuing the current office use, and a new hotel being developed on all, or part of the site.
The group will also extend its Park Plaza Histria Pula hotel by 127 rooms and suites, bringing the total number up to 368. The development is to be completed in time for the 2013 summer season. The hotel first opened in the summer of 2012.
Other
Private equity group KSL has bought boutique UK hotel chains Malmaison and Hotel du Vin. It is thought to have paid close to £200m. KSL will look to see how it can expand both chains in the UK and overseas. The two hotel brands have 27 properties as part of the Malmaison Group which was unaffected by the administration of parent company MWB Group in November.
Mandarin Oriental lifted profits 20% in 2012, with record results in Hong Kong hotels. RevPAR was up at all European hotels, with the exception of Geneva. The group now operates 28 hotels, with 16 in the pipeline.
Rocco Forte's luxury European hotel group has declared a fourth year of losses. While turnover at the 13 strong chain was up at £185.3m, pre-tax losses were £9.3m for 2012. The company suffered a similar, £9.6m loss the previous year. Forte is continuing to grow the group, adding a hotel in Jeddah and health resort in Sicily.
Fairmont has signed to open a joint hotel and residences complex in Istanbul, Turkey. Twin 41 storey towers will house a 210 room hotel and serviced apartments in the Quasar mixed use development. The project is being developed with backing from Geneva-based investor Viatrans and will complete in 2016. The group has also announced hotels in Kiev, Baku, and Moscow.
Wyndham added more gross rooms to its development slate last year than during any year in the company's history. As of 31 December 2012, the group had approximately 930 hotels and 110,700 rooms in the pipeline, of which 59% were new construction and 56% were outside the United States.
Sir Stelios Haji-Ioannou, founder of easyJet, is expanding his orange hotel brand to Africa, with a budget property in Johannesburg developed with the FTSE-listed conglomerate Lonrho. The 60-bedroom, seven-storey budget hotel, opened in Q1 2013 and is the first to be developed under a 20-year franchise agreement between Lonrho and easyHotel.com, which allows for 50 hotels to be opened by 2016.
Hotelier Nigel Chapman will invest up to £10m upgrading properties bought out of the Von Essen administration. Hotels bought into his Luxury Family Hotels group were run down physically and reputationally.